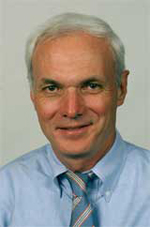 David Ray is the great grandson of Elmer Crockett, one of the founders of the South Bend Tribune, and grandson of Charles Crockett who was the Tribune's business manager for nearly fifty years. David retired from the South Bend Tribune on May 1, 2011 after serving eleven years as Editor and Publisher of the Tribune.
He was born in South Bend in 1946, but grew up in Detroit where his father, Gordon Ray, was Professor of Latin American Literature at Wayne State University, and later Chairman of the Department of Romance and Germanic Languages at the university. David was educated in the Detroit Public Schools and graduate from Redford High School in Detroit in 1964. He attended Harvard University and was awarded a Bachelor of Arts degree in American History in 1968.
He joined the Navy immediately after graduation from college and, after two initial shipboard assignments, he entered the Navy's Nuclear Propulsion Training Program. He was certified as a Nuclear Propulsion Plant Operator in 1972 and commenced a series of assignments in that specialty. He eventually served as an instructor at one of the Navy's operational prototype plants, as Engineer Officer of the USS Bainbridge (CGN-25, a nuclear powered guided missile cruiser), Executive Officer of the USS Arkansas (CGN-41), and served tours of duty on the staffs of the Director of the Nuclear Propulsion Program and the Naval Sea Systems Command Ship Design and Engineering Directorate both in Washington. He retired from the Navy in 1990 with the rank of Commander.
After leaving the Navy he returned to South Bend and started work at the South Bend Tribune. He initially served as Project Manager for construction and commissioning of the Tribune's new packaging center and Press Building. He was responsible for all preparations when the Tribune changed from afternoon newspaper to a morning newspaper, and was named General Manager of the Tribune after that assignment. He assumed responsibilities as Editor and Publisher of the Tribune in February, 2000. He is a member of the Board of Directors of Schurz Communications, Inc., and is a Vice President of that company.
David's Senior Thesis in College on the Boston and Lowell Railroad earned that year's Newcomen Society award. He received a number of awards in the Navy including the Navy Commendation Medal and the Meritorious Service Medal. He is a member of the Phi Beta Kappa Society. He served as President of the Board of Trustees of the Stanley Clark School in South Bend, as President of the Board of Directors of the local United Way, and as a member of the Executive Committee of the St. Joseph County Chamber of Commerce. He also served as a board member for Project Future, the Madison Hospital Foundation, the St. Joseph County Community Foundation, and the Downtown South Bend Organization. He and his wife Laura live in Granger, Indiana.