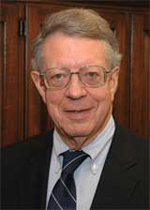 Franklin Dunn Schurz, Jr. announced his retirement as Chief Executive Officer of Schurz Communications Inc. (SCI), effective June 30, 2007. He will remain the company's Chairman of the Board. The Schurz Communications Inc. board of directors has named Todd Franklin Schurz to serve as the company's President and Chief Executive Officer effective July 1, 2007.
Schurz Communications, Inc. is a communications media holding company, publishers of the South Bend Tribune and eleven other daily papers. It also has interests in radio, television, cable television, and advertising shoppers in Indiana, Maryland, Florida, Missouri, Virginia & Georgia. Mr. Schurz has been Editor and Publisher of both the South Bend Tribune Inc. in South Bend, Indiana and the Morning Herald and the Daily Mail in Hagerstown, Maryland.
During his 26 years of newspaper career he served as president of the Maryland-Delaware-D.C. Press Association, the Hoosier State Press Association, the Chesapeake A.P. Association, and the Institute of Newspaper Controllers and Finance Officers. He received the Presidential Award of Merit from the National Newspaper Association. He served on the board of directors of the Newspapers Advertising Bureau, The American Press Institute, the Southern Production Plan, and the Riverside Press Enterprise and is currently serving on the board of the Inland Press Association. He chaired the AP audit committee for five years.
He is a member of the American Society of Newspaper Editors, the Society of Professional Journalists and the National Press Club. He chaired committees of the American Newspaper Publishers Association.
For fifteen years he spent time in broadcast as well. He is past president of WDBJ Television, Inc. Roanoke, Virginia; WAGT Television, Inc. Augusta, Georgia; KY3, Inc. Springfield, Missouri; and WASK, Inc. Lafayette, Indiana. He is Honorary Trustee of the Foundation of American Women in Radio and Television. He became a member of the board of C-Span in June, 1997, and a member of the MSTV board in October, 2001.
Mr. Schurz has served on a number of state and community boards and commissions; Maryland Physical Fitness Commission, Indiana Arts Council (Chairman), Indiana Endowment for Education Excellence. He is a graduate of Harvard College, and received a Masters degree from The Harvard Graduate School of Business Administrations. He is a veteran of the Korean War.