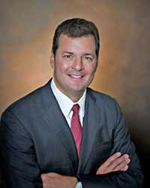 Kenneth "Casey" Keller joined Wrigley in May 2011 as President for North America, bringing two decades of experience and a wealth of expertise in consumer goods. Most recently, he served as President of the U.S. business of Alberto Culver – a leader in hair and skin care – from 2008 until the company's recent acquisition by Unilever.
Keller began his career as a brand manager and later served as a marketing director with Procter & Gamble. He then moved to HJ Heinz, where he helped re-energize the ketchup and condiments category in the U.S. before serving as CEO of Heinz Italy.  After Heinz, Keller spent two years as Chief Marketing Officer and Executive Vice President at Motorola.
Casey holds a bachelors degree from Cornell University and served for four years in the U.S. Navy before receiving his MBA from Harvard Business School. He and his wife Donna have three sons and reside in the suburbs of Chicago.