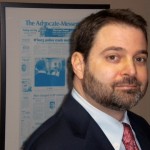 Scott C. Schurz Jr. was named editor and publisher of The Advocate-Messenger in Danville, Ky., in June 2006, and he assumed responsibility for all Schurz properties in Central Kentucky on January 1, 2007. Besides the Danville newspaper, those properties include two weeklies, The Interior Journal of Stanford and The Jessamine Journal of Nicholasville, and another daily, The Winchester Sun.
He began his employment with Schurz Communications, Inc. (SCI) in 1993 as a sports writer for The Herald-Times in Bloomington, Ind. In June 1994, Schurz became an advertising executive at the Associated Desert Shoppers in Palm Desert, Calif. He returned to South Bend, Ind., in February 1995 where he held various management positions for SCI, the South Bend Tribune, WSBT-TV, WSBT-AM and WNSN-FM. He assumed the role of general manager for special publications at the Tribune in February 2003. Two years later, in January 2005, Schurz became assistant publisher at The Advocate-Messenger.
His corporate responsibilities have included the SCI board of directors, the SCI Acquisition Committee, the SCI Governance Committee, the SCI Audit Committee and the SCI Strategic Planning Task Force, of which he has served as chairman. He is a member of the Schurz Family Council and chair of the Family Employment Committee. Schurz is president and director of Advocate Communications Inc., a subsidiary of SCI, and vice president and officer of the Advocate Brass Band. He has been both the in-house NAA Partners Program process guardian and the in-house United Way chairman at the South Bend Tribune.
Schurz serves locally on the Danville Library Inc. board, the Heart of Kentucky United Way board and the Danville-Boyle County Chamber of Commerce Small Business Committee. He also is a member of the board of directors of the Kentucky Press Association, the Southern Newspaper Publishers Association board and the Inland Press Foundation Family Owners Committee. Schurz has served on the boards of the South Bend Symphony Orchestra and Connect. He is a graduate of the 2006-2007 class of Leadership Boyle County and a graduate of the 1996-1997 class of Leadership South Bend/Mishawaka.
Schurz was born in Bloomington, Ind., on January 1, 1969. He holds both a Bachelor of Arts (1991) and a Master of Business Administration (2004) from the University of Notre Dame. Schurz and his wife Stephanie have two children, Scott (Trey) III, 5, and Daniel, 4.