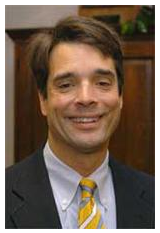 With the retirement of Franklin D. Schurz as of June 30th, 2007, the Schurz Communications Inc. board of directors named Todd Franklin Schurz to serve as the company's President and Chief Executive Officer effective July 1, 2007.
Prior to joining Schurz Communications in 1989, Todd worked for the Times Journal Company in Springfield, Virginia, and for the New York Daily News during graduate school. While with SCI, he has worked in management at the Tribune and WSBT television and radio in South Bend, and at WDBJ television in Roanoke, Virginia. He was the President and Publisher of Associated Desert Shoppers in Palm Desert, California from 1991-1995. He served as the President, Editor and Publisher of the South Bend Tribune from 1995 until February, 2000. He became the corporate Vice President of Technology and Business Development at that time. In addition, he also served as President and General Manager of WSBT-TV, South Bend, IN, from July, 2002 to October, 2005.
He was born in San Francisco, California, attended Brown University in Rhode Island, and graduated in 1983 with a Bachelor of Arts degree in History and Economics. He later received his Master of Business Administration in 1989 from the Wharton School at the University of Pennsylvania with majors in Marketing and Management.
Todd currently serves on the boards of the CBS Affiliates, the Mutual Insurance Company Limited, Herschend Family Entertainment, Memorial Health System, and Indiana University South Bend campus advisory board.  He has served on the boards of the Indiana Broadcasters Association, Hoosier State Press Associations Foundation (also a past president), Newspaper Association of American New Media Federation, and the Open Mobile Video Coalition.  He is a former Chair of the Memorial Hospital board, the Chamber of Commerce of St. Joseph County, the Poynter Institute's National Advisory Board, and the coordinating committee for the Regional Approach to Progress.  He received the 2002 Distinguished Service Award from the Hoosier State Press Association.  He has served on numerous other community organization boards, including United Way, Project Future, Community Foundation, and the Boys and Girls Club.
Todd and his wife Stephanie have two children, Anthony and Caroline.