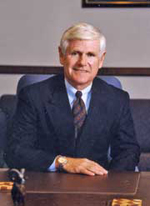 William P. Johnson was born in Goshen, Indiana on April 9, 1942 and graduated from Goshen High in 1960. He received his bachelor's degree (BBA) from the University of Notre Dame in 1964, graduating cum laude and completed his studies at the Stanford Law School (LLB) in 1967. While at Notre Dame Mr. Johnson was a member of Beta Alpha Psi, the National Honorary Accounting Fraternity and Beta Gamma Sigma, the National Honorary Financial Fraternity. He is currently a member of the Indiana State Bar Association.
After getting his law degree in 1967, Mr. Johnson assumed the position of Vice President and General Manager of GNC Corporation at Wilson, North Carolina, a subsidiary of Goshen Rubber Co., Inc.
In September of 1971 Mr. Johnson was named Executive Vice President of Goshen Rubber Co., Inc., and moved to Goshen to assume his new duties early in 1972.
In September of 1976 Mr. Johnson was named President and CEO of Goshen Rubber Co., Inc. In 1986 he was elected CEO and Chairman of the Board. In 1999 Mr. Johnson sold his privately owned company to Wynn's International. Under his leadership the company grew from 10 million to 200 million in sales, with 2000 employees at 20 operating locations.
Mr. Johnson currently is a director for the following businesses:
American United Life Insurance Co. 1978 – Present
Coachmen Industries, Inc. 1978 – Present
1st Source Bank 1996 – Present
Flair, Inc. 1986 – Present
Flying J – LLC 1999 – Present
Jelco Energy 1988 – Present
Koontz-Wagner 1996 – Present
Frank Miller Lumber Company 2005 – Present
Schurz Communications, Inc. 2009 – Present