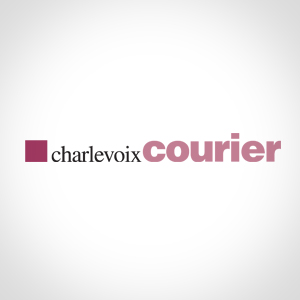 P.O. Box 117, Charlevoix, MI 49720
Phone: (231) 547.6558     Fax: (231) 547-4992
www.charlevoixcourier.com
Founded: In June 1883, Charles J. Strang, the son of King James J. Strang, leader of the Michigan Mormons based on Beaver Island, published the first edition of the Charlevoix Journal. At that time, the paper was a five column quarto, with Democratic political leanings.
In May 1890, Will E. Hampton moved to Charlevoix with his wife and daughter. That year, his brother, Charles Hampton had purchased the Charlevoix Journal from Strang who had become ordained as a minister and wanted out of the news business. Charles, who also owned another newspaper in the area, felt he needed Willís assistance to manage his workload.
In 1894, Will bought the Charlevoix Journal from his brother and changed the name to the Charlevoix Courier.
In 1908, Will sold the business to A.J. Usher and successive owners were, Victor Spanolio, J. Clark Dolliver and Harold Totten.
In 1936, the Courierís number one competitor, the Charlevoix Sentinel, founded in 1869 by De Witt C. Leach and sold to Willard Smith in March 1870, keeled under the economic pressure of the Great Depression. At the time of its demise, the Sentinel was owned and operated by Willardís daughter, Florence Smith Adams and her husband, Ira Adams.
Since then, the Courier has been the only newspaper devoted solely to Charlevoix. Albert Schaller purchased the Charlevoix Courier in 1964 to bring it under the umbrella of the local media empire, Northern Michigan Review Inc. The Courierís signature Wednesday publication day was first introduced on March 10, 1965 and continues to the present. In the wake of Albertís death in 1987, his son Kirk Schaller, took over ownership. And following Kirkís untimely passing on Feb. 25, 2001, his wife, Elsa Schaller-DeWitt, maintained ownership. The newspaper was sold to Schurz Communications Inc. in March 2006.
Staff: Staff members include publisher Doug Caldwell, office and advertising manager Kim Taylor, editor Benjamin Gohs, and classified advertising manager Lisa Sladek.
Contact information: For more information, call (231) 547-6558, visit the Courier office located at 112 Mason Street in Charlevoix, e-mail the staff at ads@charlevoixcourier.com or mail a request to P.O. Box 117, Charlevoix, MI 49720.
Circulation: Average total mailed subscriptions, 2,600. Dealers and machines, 700.
Circulation area: Mainly Charlevoix County. However, Charlevoix is a second home stronghold and many subscribers come from other areas in Michigan and across the United States.
Population: Charlevoix County, 26,090. City of Charlevoix, 2,994.
The market: The Courier is located in the heart of downtown Charlevoix, directly across the street from city hall. ìCharlevoix the Beautifulî is a catch phrase for the City of Charlevoix, where five miles of curb area is planted each spring with petunias and a working drawbridge over the Pine River Channel provides picturesque viewing opportunities of magnificent yachts. Charlevoix is nestled among two fabulous fresh water resources, Lake Michigan and Lake Charlevoix, the third largest inland lake in Michigan. The landscape is freckled with rolling hills, orchards, nature preserves and white sandy public beaches.
This fabulous destination attracts tourists from across the globe, perpetuating the townís long-standing resort history. The area offers a regional medical facility, Charlevoix Area Hospital, with more than 50 physicians in various fields which has served Charlevoix County residents, visitors and vacationers for more than 80 years. The Courierís news focus includes the City of Charlevoix, five surroundings townships and Beaver Island.
Median age: Charlevoix County, 39.1.
Homeowners: Charlevoix County, 81.1 percent.
Higher education: Bachelorís degree or higher, Charlevoix County, 19.8 percent.
Household makeup: Persons per household, Charlevoix County, 2.48.
Median household income: Charlevoix County, $39,788.
Market size: Adults 18 years and older in Charlevoix County, 18,025.
Source: U.S. Census