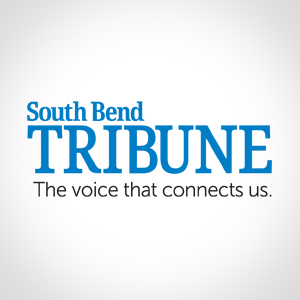 225 W. Colfax Ave.     South Bend, IN 46626
Phone: 574-235-6161     Fax: 574-236-1765
www.southbendtribune.com
Founded: In 2012 the South Bend Tribune celebrated its 140th anniversary. It was founded in 1872 by Alfred B. Miller and Elmer Crockett. Throughout the life of the newspaper it has had descendants of the founders as editor and publisher for 113 of the 125 years.
Circulation: 62,000 daily; 80,000 Sunday
Circulation Area: The Tribune serves 11 counties, nine in north central Indiana and two in south central Michigan. South Bend, with 104,000 residents, is the largest city. St. Joseph County has a population of 258,400.
Customers: 66% of adults with an opinion rely on the South Bend Tribune as their primary source of advertising information overall
Average Readership: 132,900 adults daily; 171,700 adults Sunday
The Market: The South Bend community is traditionally highlighted by strong ethnic, industrial and educational diversity. From its inception South Bend has been identified by the presence of the University of Notre Dame, the county's largest employer at 4,200 employees. South Bend is also the home to the Hummer vehicle of AM General Corp., Bendix Brakes Engineering, Honeywell International Corp. and Federal-Mogul Inc. to name just a few.
Market Size: 272,600 adults
Key Executives:
South Bend Tribune President and Publisher – Kim Wilson
Executive Editor – Alan Achkar
Vice President, Administration – Ed Henry
Vice President, Finance – Mark Hocker
Vice President, Operations – Kevin Shaw
Vice President, Advertising – Jandell Herum
Vice President of Audience & Engagement – Elisabeth Clark
IT Director – Dee Dee Gober
Online Publications: http://www.southbendtribune.com, http://www.irishsports.com, http://www.inthebend.com, http://www.sbtcars.com
The Community
The Community: South Bend is the home of the University of Notre Dame, the Studebaker National Museum and the College Football Hall of Fame. Major corporations with a presence in the community include Allied Signal Braking Systems, Dodge Manufacturing and AM General.
Median Age of adults: 45 years old
Homeowners: 81% of adults own their home
Higher Education: 59% of adults have some college education
Household Makeup: 42% have children under 18 at home; 39% live in homes with 2 or more adults employed outside of the home
Household Income: 53% have household incomes of $50,000 or more
Source: 2007 Market Study
Related sites: http://www.southbendtribune.com, http://www.irishsports.com, http://www.inthebend.com, http://www.sbtcars.com