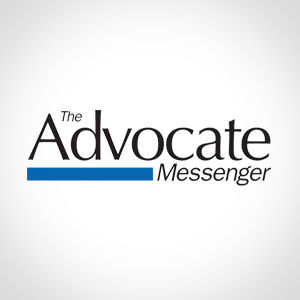 330 South Fourth Street     P.O. Box 149     Danville, KY 40422
Phone: 859-236-2551     Fax: 859-236-9566
www.amnews.com     www.centralkynews.com
Founded: The Advocate-Messenger is the result of a merger by two newspapers in 1940 – The Kentucky Advocate and The Danville Daily-Messenger. The paper was purchased by Schurz Communications in 1978.
Circulation: 9,121 Daily; 9,093 Sunday
Market Area: The newspaper serves the region in south central Kentucky, south of Lexington, with distribution primarily in Boyle, Lincoln, Casey, Mercer and Garrard counties.
Population: 81,300 adults live in the market area served by The Advocate-Messenger and The Kentucky Advocate, our Sunday newspaper.
Customers: Market adults in Boyle County, rely on The Advocate-Messenger; more than any other individual media by more than a 2:1 margin.
The Market: Danville serves as a regional hub for industry, medical care, shopping and education. The industrial base includes such plants as R. R. Donnelley, American Greetings, Red Wing Shoe Company, Intelligrated Braking System, Philips Lighting, DANA Corporation, The Timberland Company and Berry Plastics who all have manufacturing and/or distribution centers in Danville.
Key Executives: Scott C. Schurz Jr., President, Editor and Publisher; John Nelson, Executive Editor; Helen Powers, Advertising Director; Jerry Dunn, Advertising Manager; Renita Cox, Controller; John Preston, Audience Relations Director; Robert Martin, Operations Manager; Ray Cornish, IT Director.
The Community
The City: Danville, located in Boyle County, was recognized by TIME magazine as one of ten successful "Main Street" communities in the country and was included in the book "The 100 Best Small Towns in America."
Education: Centre College is consistently ranked as one of the top liberal arts colleges in the nation. Eastern Kentucky University – Danville Campus, Bluegrass Community & Technical College – Danville Campus, National College of Business & Technology -Danville Branch also reside in Danville along with the Kentucky School for the Deaf.
Medical: The Ephraim McDowell Regional Medical Center and its adjuncts, Ft. Logan Hospital, A Children's Place Day Care Center, Ephraim McDowell Wellness Center, and The Ephraim McDowell Assistant Living Facility.
Median Age: 46 years old.
Homeowners: 83% of adults own their home.
Household Makeup: 37% have children under 16 at home; 36% live in homes with 2 or more adults employed outside of the home.
Household Income: The median household income of market adults is $43,600.
Source: 2007 RTR/ESSEX3 Market Study; www.thinkkentucky.com
Related Sites:
Brass Band Festival