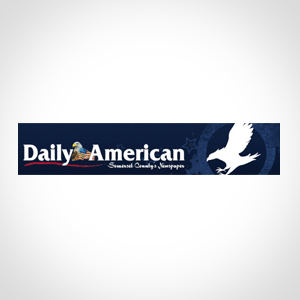 334 W. Main     Somerset, PA 15501
Phone: 814-444-5900     Fax: 814-445-2935
http://www.dailyamerican.com
Founded: The Daily American was purchased by Schurz Communications in 1997. It was owned and operated by the Reiley family for 68 years. It continues to be the main source of information about Somerset County, Pa.
Circulation: 14,039. The Daily American is published seven days a week. A Sunday edition was created on Dec. 31, 2006.
Distinction: In 2007, the Daily American marked an unprecedented 40 consecutive years of circulation growth without a significant change in population.
Awards: In 2007, The Daily Americanís Advertising Department received the Pa. Newspaper Associationís statewide first place award for Advertising Excellence for the third year in a row. The Newspaper In Education Department has received numerous state and national honors.
Key Executives: Andrew Bruns, publisher; Brian Whipkey, editor; Sam Foglesong, circulation manager; Tom Koppenhofer, advertising manager; and Rebecca Flyte, business manager.
Average Readership: 38,000 adults daily.
The Daily American generates a Readership Behavior Score of 4.36 within its core market. The number is well above the national average of 3.46 for newspapers with similar circulation size.
Customers: 71 percent of market adults read the Daily American in a typical Monday through Friday. About six in 10 Somerset County adults rely on the Daily American as their primary source of information about community and county news, high school sports and other local news.
The Market: Somerset is located in Southwestern Pennsylvania. Two major ski resorts are located in the area. Somerset is located along the Allegheny Passage, a hiking and biking trail between Pittsburgh and Washington, D.C. A National Park is being made to remember the Sept. 11, 2001, heroes of United Flight 93. Recreation provides a major part of the areaís economic base, but it also has several major manufacturing firms and companies including Wheeler Brothers, Fleetwood Folding Trailers, Gilmour Manufacturing and PBS Coals-Rox Coal. Agriculture is also strong in Somerset County. The Pittsburgh Zoo is creating the first International Conservation Center in Somerset County for elephant breeding.
Market size: 62,200 adults
Higher education: 38 percent of the population has attended or graduated from college.
Household makeup: 30 percent have children under 16 at home and 40 percent of homes have multiple incomes.
Household income: The median family income in 2004 was $37,100. Fifty-four percent have incomes over $35,000.
Source: 2004 Strategic Research Study