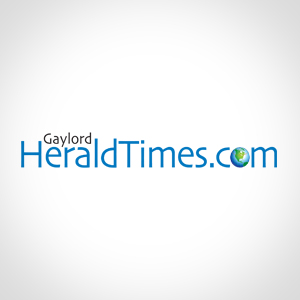 2058 S Otsego Ave.     Gaylord, MI 49735
Phone: 989-732-1111
www.gaylordheraldtimes.com
The Gaylord Herald Times, founded in 1875, is the oldest business in Otsego County and in fact, was founded in the same year as the county. A number of individuals have operated the newspaper over the years. Doug Caldwell is president.
In May of 1999, the Gaylord Herald Times advanced from a weekly publication to twice weekly, establishing Wednesday and Saturday as publication days. The newspaper also publishes a companion shopping guide, MarketPlace, on Saturday.
The Gaylord Herald Times serves all of Otsego County as well as parts of Antrim, Cheboygan, Crawford, Montmorency and Oscoda counties.
Throughout the year, the business produces a number of other publications, including the Gaylord/Otsego County Guide and Gaylord Now. It is also co-publisher of The PhoneGuide, a regional telephone directory serving several counties in Northern Michigan.
Since 1968, the Gaylord newspaper has won more than 400 national and state awards for journalistic excellence, including Michigan Newspaper of the Year 15 times in the last 16 years.
The Gaylord Herald Times employs 16 full- and part-time staff members.
Otsego County is an ideal vacation destination during all four seasons. The 80 lakes, rivers and streams in Otsego County offer perfect locations to cool off. Numerous parks, recreation areas and pathways provide ideal avenues for hiking, biking or just strolling around, seeing the sights. An average of 150 inches of snow each year, and unspoiled wilderness also make the Gaylord area a multi seasonal playground for a variety of family recreational opportunities such as swimming, golfing, elk viewing, mushroom picking, hunting, fishing, snowmobiling and down hill or cross country skiing. The Gaylord Golf Mecca is the largest cooperative golf organization in Michigan. The group has 22 courses, four resort destinations, 22 hotel properties and numerous awards from golf magazines and organizations, providing plenty of great quality golf to match every style of play and making the Gaylord Golf Mecca one of the premier golf destinations in the country.
The population of Otsego County is 23,301 with 10,086 households. The median household income is $44,597
Cathy Landry, News Editor
cathy@gaylordheraldtimes.com
Frank Michels, Design Editor
frank@gaylordheraldtimes.com
Christy Lyons, Retail Advertising Manager
(231) 439-9329
clyons@petoskeynews.com
Matt Wenzel, Digital Media Leader
mwenzel@gaylordheraldtimes.com