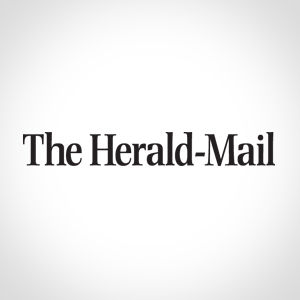 100 Summit Avenue     P.O. Box 439     Hagerstown, MD 21741
Phone: 301-733-5131     Fax: 301-739-7518
http://www.heraldmailmedia.com
Founded: The Daily Mail began as a weekly newspaper on July 4, 1928. The Morning Herald was the first daily newspaper in Hagerstown, beginning publication in 1873. The Daily Mail converted to daily publication in 1890. The two newspaper companies merged in 1920, and were purchased by Schurz Communications in 1960. The Daily Mail and The Morning Herald continued to publish separate Monday through Friday editions until October of 2007, when they were merged into one morning paper, The Herald-Mail.
Circulation: Herald-Mail circulation 27,772 daily and 32,595 on Sunday; four million page views monthly; 22,000 unique daily visitors as of October 2010.
Average Readership: 72,000 adults daily; 79,300 adults Sunday
Circulation Area: Hagerstown is located in western Maryland, About 20% of our papers' readership is in Pennsylvania and West Virginia. The newspapers are distributed in all three states, with the most circulation in Maryland.
Population: Hagerstown's population is 36,953 with 143,748 residents in Washington County.
Customers: More adults rely on The Herald-Mail as their primary source of advertising information for every major category over all other media combined in the Hagerstown market area.
The Market: The economy of Hagerstown and Washington County has evolved from primarily industrial to service. During the past 20 years, Citicorp Credit Services Inc. and First Data Merchant Services have opened separate credit-card processing operations. Each employs more than 2,000. Staples opened a regional distribution center in 1997 that employs about 800. Volvo Power Train builds engines and transmissions in Hagerstown. It employs more than 1,300. Hagerstown/Washington County is also one of the top tourism destinations in Maryland, with Antietam National Battlefield drawing tourists from around the world, and Prime Outlets attracting shoppers from throughout the Mid-Atlantic region.
Awards: The Herald-Mail won 11 first-place awards and 13 second-place awards in its circulation category in the 2008 Maryland-Delaware-D.C. Press Association editorial contest. One first-place winner also was chosen best in show — the top prize among all six circulation divisions — for growth and development reporting. The Herald-Mail has been named Newspaper of the Year 11 of the last 16 years among daily papers in the 30,000 to 75,000 circulation division. The Herald-Mail picked up another nine awards, including a best in show award for its Home Source section, in the 2008 MDDC Advertising Contest. The Herald-Mail also scored nine awards in the association's 2008 Online Media Contest.
Key Executives: John League is president, editor and publisher; Jake Womer, executive editor; Brittney Hamilton, advertising director; Dave Elliott, human resources director; Brian Sease, operations director; Kim Reno, controller; Liz Thompson, digital director; Brian Taylor, IT director; Brian Tedrick, distribution director.
The Community
The City: Hagerstown is about 70 miles northwest of Baltimore and Washington at the intersection of Interstates 70 and 81. Antietam Battlefield, Harpers Ferry and Gettysburg are within a 45-minute drive of Hagerstown. It also has a strong industrial base with Mack Truck, Citicorp and First Data Corp. each employing more than 1,000.
Market Size: 143,600 adults
Median Age: 46 years old
Homeowners: 78%
Higher Education: 29% are college graduates
Household Makeup: 37% have children under 18 years old; 44% live in homes with 2 or more adults employed outside of the home
Household Income: 47% earn more than $50,000
Source: 2008 Market Study, conducted by RTR/Essex3