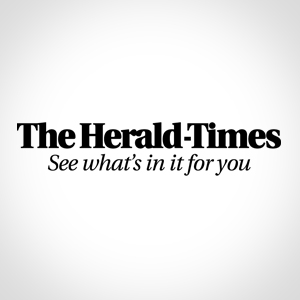 1900 S. Walnut St.     P.O. Box 909     Bloomington, IN 47402-9984
Phone: 812-332-4401     Fax: 812-331-4285
http://www.heraldtimesonline.com
Founded: The Herald-Times was founded in Bloomington, Indiana in 1877 when a recent Indiana University graduate, Walter S. Bradfute, decided the community needed a newspaper. He named it The Telephone, to capitalize on the invention Alexander Graham Bell had patented the year before. After a series of name changes, The Herald-Times emerged in 1989 when publication was switched to morning distribution.
The Schurz family acquired the newspaper in February 1966. Another milestone came later that year when Bloomington's first Sunday newspaper was published on Sept. 11, printed as a joint publication with the Times-Mail in Bedford. In 1985 a building expansion nearly doubled the square footage and a new Koenig & Bauer press was installed.
In 2000, The Herald-Times joined forces with four other Schurz-owned Indiana newspapers (The Mooresville/Decatur Times, The Martinsville Reporter-Times, The Southside Times and the Bedford Times-Mail) to publish The Sunday HoosierTimes.
Circulation: Circulation: Daily 27,540; Sunday 44,197
Average Readership: Daily 60,588; Sunday 97,233
Circulation Area: Monday-Saturday, Bloomington, Indiana DMA, market defined as south-central Indiana with dominance in Monroe and contiguous counties. Sunday, Bloomington, Bedford, and Martinsville DMA's, market defined as south-central Indiana with dominance in Monroe, Lawrence and Morgan counties and other outlying areas.
The Market: The Herald-Times market is comprised of highly educated, mid- to high-income residents, predominantly families with children. The economic climate is strong, with leading contributors such as Indiana University and Bloomington Hospital. Bloomington is known throughout the region for its cultural and recreational opportunities, including sports, arts, recreation, entertainment and nightlife. Nearly 20% of greater Bloomington residents have lived in the area less than five years; The region is also home to a large transient population from Indiana University.
Market size: Monday-Saturday, total NDM occupied households 56,816.
Key Executives:
Hoosier-Times Publisher: E. Mayer Maloney, Jr.
Editor – Robert S. Zaltsberg