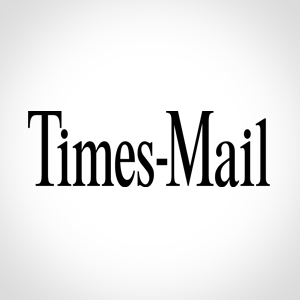 813 16th Street     Bedford, IN 47421
Phone: 812-275-3355     Fax: 812-275-4191
www.tmnews.com
Founded: The Times-Mail celebrated its 120th birthday in 2004, although its name dates only to 1942 when Stewart Riley came to Bedford from Rockford, Ill., purchased the Times and the Mail and merged the two. The newspaper was sold to Schurz Communications in 1966.
Circulation: 13,221
Average Readership: 67% of market adults read the Times-Mail in a typical work week. 52% rad the Sunday Times-Mail during a typical month.
Circulation Area: The Times-Mail serves a five-county area in south central Indiana with distribution primarily in Lawrence, Orange, Jackson, Washington, Martin and Greene counties.
Distinction: The newspaper's penetration in its city zone is 81.81 percent, one of the highest in the country. The Sunday newspaper is a joint publication of The Times-Mail, the Herald-Times in Bloomington and the Reporter Times in Martinsville, both sister publications.
Population: Lawrence County, where Bedford is located, has a population of 45,922. Bedford's population is 13,768.
Customers: 60% of the adults in the Bedford market rely on the Times-Mail as their primary source of local new and news about their communities.
The Market: Bedford and Lawrence County is industrially based with both GM and Visteon automotive plants located here as our largest employers. The community has two hospitals, making it a health care hub for the southern region. Naval Surface Warfare Center – Crane is located in Martin County employing close to 4,000 people from all surrounding counties. Its workforce is made up of highly professional engineers and military personnel who impact the demographics of the area. Lawrence County is also the "Limestone Capital of the World," and is home to several working limestone quarries, including one of the few underground limestone quarries in the country. Auxiliary limestone manufacturing and finishing plants impact our economy and community profile. Its reliance on the automotive and limestone industries, plus the influence of Crane, makes Lawrence County's profile more dependent on manufacturing than its rural county neighbors.
Market size: 50,600 adults
The Community
Median Age of Adults: 46 years old
Higher Education: 43% of adults have some college or trade school education
Employment: 34% of employed adults are in blue-collar positions
Household Makeup: 34% have children under 16 in the household; 34% live in homes with two or more adults employed outside of the home
Household Income: Median income of adult population is $42,400; 36% have household incomes of $50,000 or more
Distinction: 86% of adults have lived in the area for 10 years or more. 69% have lived in the area 20 years or more.
Source: 2003 Market Study, U.S. Census Bureau, Indiana Business Research Center