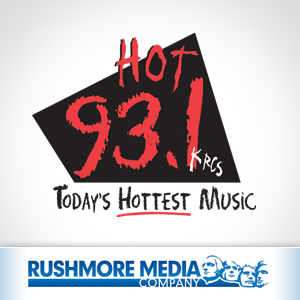 660 Flormann St.Ste. 100     Box 2480     Rapid City, SD 57709
Phone 605-343-6161     Fax 605-343-9012
http://www.hot931.com
Founded: KRCS-FM debuted on the air licensed to Sturgis South Dakota in 1972 with a Beautiful Music format. In 1980 KRCS-FM switched to a live country format simulcasting portions of the day with sister AM KBHB. KRCS and KBHB were sold to CD Broadcasting in 1989. In 1996 TEI Broadcasting purchased KRCS and KBHB and added them to a Cluster of stations that included KKMK-FM, KKLS-AM, KOUT-FM, KFXS-FM and KIMM-AM. KRCS nFM studios and operations were moved to Rapid City and on January 1st 1997, KRCS changed format to Top 40 as HOT 93.1. KRCS remains the markets only Top 40 station. With a compliment of 4 translators HOT93.1 covers 4 states and 96% of the TSA.
The Market
Definition of the market: Metro: Pennington and Mead Counties. (Arbitron Spring 2006)
Total Survey Area (TSA): Pennington, Meade, Haakon, Ziebach, Dewey, Jackson, Bennett, Shannon, Fall River, Dawes(Neb), Custer, Lawrence, Butte, Harding, Perkins, Adams(ND), Bowman(ND), Carter(MT),Powder River(MT), Crook(WY), Weston(WY), Campbell(WY) (Arbitron Spring 2006)
Market Size: Total Survey Area (persons 12 +) 225,200; Metro Area (persons 12+) 99,0000 (Arbitron Spring 2006)
Listenership: 16,900 Metro, 24,300 TSA (Arbitron Spring 2006)
Area Statistics: (Source: U.S. Census Bureau / USDA)
Median Household Income: $43, 318 Median Age (South Dakota) 36.5 yrs
Homeownership Rate: 68.2 %
Education: High School Graduates 84.6% Bachelor Degree or Higher 21.5%
Business Statistics: (Source: Governor's Office of Economic Development)
Subject Rank Year Source
Per Capita State Tax Collections 1 2006 U.S. Census Bureau
Best Corporate Business Climate 3 2006 Pollina Corporate Real Estate
Average Consumer Credit Score 1 2005 Home Improvement Web
Entrepreneurial Friendliness 1 2006 Small Bus. Survival Found
Safest State 2 2005 FBI
State Business Tax Climate 2 2006 Tax Foundation
Health Care Costs for Business 5 2006 Expansion Mgmt Magazine
Student per Instructional Computer 1 2006 Technology Counts, 2006
Students per high-speed Connection 1 2006 Technology Counts, 2006
The Community
The small town of Sturgis, South Dakota is known throughout the United States as the home of the Sturgis Motorcycle Rally, the single largest gathering of motorcycle enthusiasts in world. While the population of Sturgis-proper hovers at just over 6,000 residents, between 600,000 and 1,000,000 tourists faithfully visit the Sturgis-area each August. The fabled event was started by Sturgis businessman J.C. "Pappy" Hoel, and the Jackpine Gypsies Motorcycle Club, back in 1938. The community of Sturgis was founded in 1876, largely as the result of Ft. Meade, the nearby Cavalry outpost that serves today as one of South Dakota's major Veteran's Hospitals. The community was named after Colonel Samuel D. Sturgis whose son, Lt. JG Sturgis was killed with George A. Custer in the Battle of the Little Big Horn earlier that same year.
Key Executives: Lia Green is President and General Manager, Michael Goodroad; General Sales Manager, Maryanne Whittle; Business Manager, Jay Davis "J-Day"; Director of Programming.
Distinction: "TODAY'S HOTTEST MUSIC", HOT 93.1
Target Demographic: persons 18-34.