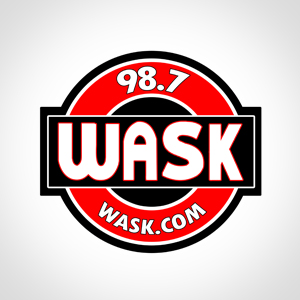 3575 McCarty Lane     P.O. Box 7880     Lafayette, IN 47905
Phone 765-447-2186     Fax 765-448-4452
www.wask.com
WASK-AM went on the air in 1942 and after a fire destroyed the studio it moved to its present location in 1950.  In 1964 WASK built and began broadcasting on Lafayette's first FM commercial radio frequency, known as WASK-FM.  The call letters were changed to WKOA in 1994 after WASK, Inc purchased another FM radio frequency, formerly WIIZ-FM, changing those call letters to WASK-FM.
Population: Lafayette has a population of 73,445 and Tippecanoe County 116,100.
Awards: WASK has won the Marquis de Lafayette Award for Community Service.
Market: Lafayette is the home of Purdue University. It also has a strong industrial base including Subaru-Isuzu Automotive, Eli Lilly & Co., Caterpillar, Wabash National Corp., Fairfield Manufacturing and ALCOA.
Key Executives: John D. Schurz is president and general manager; Brian Green is Director of Sales, Lisa Harvey is Controller/HR, Steve Truex is Chief Engineer, Jo Reynolds is Administration Manager, Liz Hahn is Digital Media Director, Lindsay Reinert is Promotions Director and Bryan Garvey Program Director.
Distinction: WASK is Lafayette's Super Hits of the 60′s and 70′s Station, featuring local air personalities playing great Super Hits of the 60′s and 70′s all the time. Lafayette's heritage commercial broadcast station began operations in 1942 as WASK 1450 AM and became a simulcast station with WASK 98.7 FM in 1997. This format delivers a target audience of adults 35 and older. This adult audience has a greater consumer spendable income than any other age group.
Greater Lafayette's largest radio news organization presents over 100 hourly news updates and sports reports each week.
Greater Lafayette's only local daily traffic reports air during morning and afternoon drive times. Our traffic reporters are local police officers.
Greater Lafayette's only Farm Director, Skip Davis, provides agribusiness news, market updates and farm weather. Skip is a veteran farm broadcaster and a voting member of the NAFB.
Lunchtime Oldies by request each day from noon to 1 p.m.
The Community
Every day, approximately 10,000 people from nearby counties commute to Tippecanoe County making Greater Lafayette the employment, shopping and entertainment "hub" of an eleven-county area.
"Greater Lafayette is known for its central location, strong local economy, educated and skilled workforce, quality of life, low crime rate and enthusiastic support of industrial and business development."
- Greater Lafayette Chamber of Commerce
Residents of Tippecanoe County are well-educated. There are nearly as many college graduates (30.7) as high school graduates (31.7).
Most residents of Tippecanoe County are employed in managerial (29.7%) or technical (30.4%) jobs. Seventy-three percent drive to work.
More than 40% of the households in Tippecanoe County have an income of $50,000 or more.
Total retail sales in the market total $1.5 billion annually.
Purdue University: The enrollment at Purdue University tops 36,000 students representing all 50 states and 60 foreign countries. The university is best known for its engineering, agriculture, aviation and MBA programs. With 8,000 employees, Purdue University is the county's largest employer.
Industry: Tippecanoe County's central midwestern location, educated workforce and infrastructure make it home for major industry. Half of the area's top 25 employers are manufacturers, among them: Wabash National Corporation, Subaru-Isuzu Automotive, Eli Lilly, ALCOA, Caterpillar, Great Lakes Chemical Corporation, A.E. Staley and Siemens.
Real Estate: The real estate market is thriving in Tippecanoe County for realtors and home builders alike. Development of residential subdivisions is robust and the average new home price in the county is nearly $123,000.
Insurance: Major insurance companies operate in Tippecanoe County. The headquarters for Lafayette Life Insurance Company have been in Lafayette for over ninety years and State Farm Insurance Company operates one of 26 regional offices in West Lafayette.
Health Services: The medical facilities in Tippecanoe County provide quality health care for the eleven-county area. There are two full-service hospitals, two mental heath facilities and a large outpatient clinic.
The Market
Metro: Tippecanoe County
Total Survey Area (TSA): Tippecanoe, Benton, Carroll, Clinton, Fountain, Jasper, Montgomery, Newton, Pulaski, Warren and White counties in northwest Indiana.
Market Size: Total Survey Area (persons 12+): 295,600; Metro area only (persons 12+): 121,700 (Source: Arbitron, Fall 2000); Metro area, all persons: 139,849 (Source: 1999 US Census estimate)
Listenership per week: 25,600 Metro; 35,700 TSA (Source: Arbitron, Fall 2000)
General demographic information: Since Tippecanoe County serves as both the population and employment hub of the ten-county area, key demographics reflect the composition of that county.
Median age: 28.3 years
Average age:  33 years
Median household income: $45,905
46% of households have a household income about $50,000
30% of persons 25+ have completed 4 or more years of college
32% of persons 25+ have completed high school
(Sources: US Census Bureau, Indiana Business Research Center; Arbitron, Fall 2000)