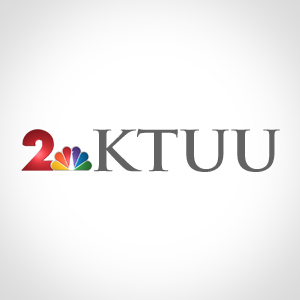 701 E. Tudor Rd. Suite 220     Anchorage, AK 99503-7488
Phone: (907) 762-9202     Fax: (907) 561-0882
www.ktuu.com
Channel 2 in Anchorage began broadcasting as KFIA (K First In Anchorage) receiving its license on Oct. 15, 1953. The station did go on the air "first" but with such a poor quality signal few people were able to watch the station. On Dec. 26, 1954 the station was sold to Midnight Sun Broadcasting Company and became sister station to radio station KENI. The station then became KENI-TV and was completely overhauled with all new, but humble, facilities.
On June 18, 1966 KENI-TV became the first station in Alaska to broadcast in color.
Under KENI-TV Channel 2 was affiliated with both NBC and ABC airing a blend of each of the network's program schedules. On July 1, 1971 KENI-TV became a full NBC affiliate losing its ABC programming rights to KIMO Channel 13.
All network programming in Alaska was received on a multi-week delay. The NBC programs were shipped from Burbank to Honolulu to air on a one week delay. Then from Honolulu the 2 inch quad tapes and 16 mm film copies of the entertainment schedule were shipped to Anchorage for air on KENI-TV on a three week delay. In 1982 the delay was reduced to 2 weeks. Then on April 1, 1984 Channel 2 became the first station to air all of its network programming on a zero day delay via satellite.
On June 3, 1981 the sale of the station to Zaser and Longston, Inc. closed. The call letters were changed to KTUU-TV shortly after the close.