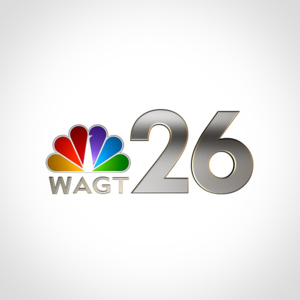 905 Broad Street     Augusta, GA 30901
Phone: 706-826-0026     Fax: 706-724-7491
www.wagt.com
Founded: WAGT-TV signed on the air in 1968 under the call letters WATU. After Schurz Communications purchased the property in 1980, the call letters were changed to WAGT and the station was moved to its present downtown Augusta location.
Site: Since 1980 the WAGT facility has undergone several renovations and upgrades, the latest being the addition of the The CW Network as the company's second digital channel.
Broadcast Area: WAGT-TV/DT is an NBC affiliate. WAGT, DT 2 is an affiliate of The CW Network. They serve the Augusta area.
Population: The population of the Augusta market is 625,000
Awards: WAGT has received the "Best Newscast in Georgia" award for markets outside of Atlanta. The news department has been recognized for journalistic excellence by the Georgia Education Association, the Georgia Association of Broadcasters, the Georgia Associated Press and NBC for excellence in news broadcasting. WAGT has the only certified chief meteorologist in the market.
The Market: Augusta is most famous as home to the Masters golf tournament in April. Major industries include the Savannah River Site, Procter & Gamble, International Paper EZ-GO Golf Cart and Firestone/Bridgestone.
Key Executives: Mike Bell is President and General Manager; Marilyn Brock, Vice President of Finance and Business Affairs; Monica Taylor, Human Resources; Greg Baldwin, News Director; Mariah Gardner, Promotions Manager; Denny Van Valkenburgh, General Sales Manager; Marilyn Brock, Business Manager/Human Resource Manager; David Defrehn, Chief Engineer; Brent Hlavaty, The CW Augusta Station Manager.
NBC 26/WAGT-TV
Mike Bell, General Manager
mbell@wagt.com
Marilyn Brock, Vice President of Finance and Business Affairs
mbrock@wagt.com
Monica Taylor, Human Resources
mtaylor@wdbj7.com
Mariah Gardner, Promotions Manager
mgardner@wagt.com
Greg Baldwin, News Director
gbaldwin@wagt.com
Denny, Van Valkenburgh, General Sales Manager
dvanvalkenburgh@wagt.com
Denny Van Valkenburgh, National Sales Manager
dvanvalkenburgh@wagt.com
David Defrehn, Chief Engineer
ddefrehn@wagt.com
Brent Hlavaty, CW Station Manager
bhlavaty@wagt.com