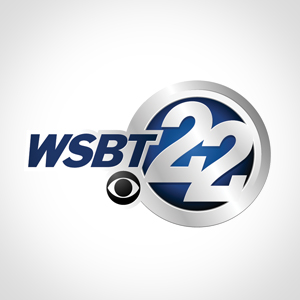 1301 E. Douglas Road     Mishawaka, IN 46545
Phone: 574-233-3141     Fax: 574-288-6630
www.wsbt.com
WSBT-TV went on the air in December 1952, one of the first Ultra High Frequency television stations in mid-America and the first UHF station in the nation to produce a "live" telecast.
WSBT's history has been full of other firsts…first UHF station to telecast a high school basketball tournament, first station to present a closed-circuit telecast of a college football practice, first Indiana station to transmit a color picture, first to establish news bureaus, first to produce morning and noon news programs and first to take its news on the road with live, remote telecasts.
WSBT is a CBS affiliate and serves northern Indiana and southwest Michigan.
South Bend's population is 100,800 (source 2012 census).
Key Executives: Sally Brown is President/General Manager of WSBT Radio and Television. John Haferkamp , News Director; C. Eugene Hale, Chief Engineer; Chris Dautel, Vice President, Finance and Business Affairs, Scott Leiter, Operations Manager, Jim Suski, Director of Sales.
Mission Statement: The WSBT-TV Mission is to be the dominant, highest-rated TV station and content provider across all day parts and platforms, while attracting and growing talented dedicated staff, maximizing revenue and operating profit and concurrently providing exemplary and genuine public service and servant leadership to our community.
South Bend is the home of Notre Dame University and its rich athletic tradition. It was also once the home of Studebaker. While the plant is closed its history is preserved at the Studebaker National Museum. Major industries include Allied Signal and AM General.
Median Age of Adults: 44 years old
Homeowners: 60% of adults own their home (source 2012 census)
Education: 84% of adults have a high school education or higher, 23% have a Bachelor's degree or higher, 21% have some college education (source 2012 census)
Household Makeup: 30% have children under 18 at home (source 2012 census)
Household Income: 48% have household incomes of $50,000 or more (source 2012 census)
Source: 2000 Market Study
WSBT-TV Departmental Email
News Department
wsbtnews@wsbt.com
Administration

Sally Brown, President & General Manager
mjewell@wsbt.com
Engineering
C. Eugene Hale, Chief Engineer
HALE@wsbt.com
Mike Green, Assistant Chief Engineer
mgreen@wsbt.com
News
John Haferkamp, News Director, Executive Producer
jhaferkamp@wsbt.com
Production
Scott Leiter, Operations Manager
sleiter@wsbt.com
Pat McGovern, AM Production Supervisor
pmcgovern@wsbt.com
Rod Copley, PM Production Supervisor
rcopley@wsbt.com
Programming
Michelle Jewell, Programming Coordinator
mjewell@wsbt.com
Promotions & Public Affairs
Scott Leiter, Creative Customer Services Manager/Operations Manager
sleiter@wsbt.com
Josh Taylor, Director of Promotions
jtaylor@wsbt.com
Michelle Jewell, Executive Assistant
mjewell@wsbt.com
Sales
Ted Smucker, National Sales Manager
tsmucker@wsbt.com
Gregg Richardson, Local Sales Manager
grichardson@wsbt.com