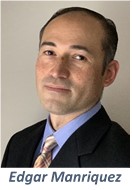 Jessie Agostino, CFO for Schurz Communications, announced this week that Edgar Manriquez has been promoted to Corporate Controller. Edgar joined Schurz Communications in January 2007 as a staff accountant. In March 2012, he was promoted to Corporate Accountant, and in June 2015, he was promoted to Assistant Controller.
Edgar came to Schurz from Saint Joseph Regional Medical Center, South Bend, IN, where he started his accounting career as an intern while still working on finalizing his undergraduate studies. After completion of his undergraduate studies in 2004, he was offered a full-time position as a Staff Accountant and Analyst at the hospital.
Edgar holds a Bachelor of Business and Science, with concentration in Accounting, from Indiana University. In December 2019, he completed his Master of Business Administration (MBA) at Indiana University.
Edgar resides in South Bend with his wife Amy and three children Kara, Olivia and Austin.
We are pleased to have Edgar fill this role and are proud of the value he adds and his accomplishments while working for Schurz Communications.
"It has been wonderful to see Edgar's progressive growth and development over his 13+ years of service to Schurz in various roles from entry level staff accountant to Assistant Controller, and now Corporate Controller. He has earned this promotion through his hard work and dedication, and for the tremendous value he has provided the organization. I congratulate Edgar for his accomplishments and look forward to working together with Edgar in his new role as Corporate Controller, and the great things Edgar will accomplish in the future", Jessie Agostino.